Scott Monahan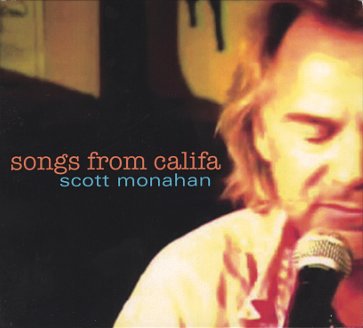 Scott has released his debut soloalbum, it's called Songs from Califa.

Also check out Scott on youtube: http://www.youtube.com/user/monahanmusic
---
Old news items about Scott
2002-07-29 The new Spirit album "Sea Dream" includes a song called "Line by Line (Water in the Eyes)" written by Scott and performed by Scott and Randy California. Sea Dream is released by Evangeline/Acadia (Editors note 2009: A complete version of the song came out on Spirit's 'Son of America album). Scott also appears on the new Malibooz CD "Beach Access" - check out http://www.malibooz.com. Scott has also recently completed a number of soundtracks for National Geographic.
2001-12-02 Scott is currently in the studio recording a new album with The Malibooz. New drummer in the group is Bruce Gary.
2000-10-24 A new Spirit concert video/DVD has just been released called "In Concert". It was taped in 1986 and features Randy, Cass, Scott and Walter Egan on bass. Scott performs "Sweet Child"!
2000-05-28 Scott is currently working on the "18 Wheels Of Justice" TV-soundtrack. It's airs on TNN, which is a country cable station (The Nashville Network). (Thanks to Bruce Pates for this info.)
1997-07-23 News about Scott Monahan (posted by Debbie Pollard on the Spirit mailinglist):
"Scott is currently having a lot of fun in a beautiful studio in La Jolla, CA. He's singing and playing various instruments for the TV series Pacific Blue, and he's working on the CD of the show's soundtrack. One of the songs is from the 60's era and Scott had arranged for Randy to do the vocals, but Randy couldn't make it down the day of recording so Scott had to do the vocals. We're not sure when the CD will be released but it does feature a variety of musical styles."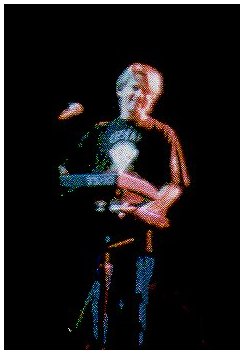 ---
A short biography of Scott Monahan
Scott Monahan was born December 2, and grew up outside Pittsburgh, PA. He began playing music when he was 7 years old. He plays piano, keyboard, trombone, bass guitar and ukulele, & harmonica.
Scott played keyboards for Spirit and Randy California on and off through the eighties and nineties. Sometimes he even fulfilled the role of the bass player with the band during live gigs by playing keyboard bass.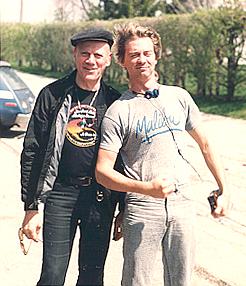 How Scott joined Spirit...
[interview on the KPFK radio show "Thursday lunch" in -93]
Interviewer: So Scott, how did you join up with these guys?
Scott: A couple of years back Randy sent me a lot of money in an envelope, and said "if you don't play with us you can't spend this money"...
Interviewer: Really?!
Scott: Actually no, Randy and I used to hang out in Trancas, up in Malibu years ago, and play with local band up there called Nile. And he was so impressed with the fact that I could drink beer and not play piano, so he wanted to see if he could stretch that out for another ten years, thirteen if you count the last three...
Interviewer: Sounds great!
Scott: That's how we started...went downhill from there...;-)
Here's another version of the story of how Scott joined Spirit from a Spirit press release. I don't know if this is fact or fiction, but it's a good story!
A press release from "the desk of Peter Allan, editor of Hampstead News, Vale of Heath, London":
"Dateline: 23, September 1984 (Pan Am Flight 121, London--Los Angeles), Randy California, having just completed a solo tour of europe, including England (Reading, Milan, Elixir Festivals) met and struck up a conversation with one Jo Jo Starbuck, wife of then Pittsburgh Steeler quarterback Terry Bradshaw. Jo Jo mentioned that she knew of a multi-talented keyboardist from the Pittsburgh area (the Reverend Scott Monahan) who was living and working out of his church. Intrigued by the thought of a true holy man who could write and sing, Randy got in touch with the Reverend Monahan, listened to his outstanding collection of original material, and invited him out to California for an audition with the band. Needless to say, the audition proved highly successful and the 28 year old Reverend has become a permanent member and integral creative force in the rock and roll band SPIRIT."
Maybe this version, from an article by Debbie Pollard ("Reflections of Spirit. Rockin' with Debbie: Tales of Spirit From Hendrix to Zeppelin To Ojai" 1992, Ojai Valley Voice) stays closer to the truth:
"Keyboardist/bassist Scott Monahan has been with the band for 10 years. He met Randy when he was playing at Trancas in Malibu and Randy would drop in and jam with the band.
When Randy asked Scott to go out on the road with Spirit, he thought it would be fun. He's been with the band ever since! 'It's an incredible experience to play with these guys and reap the benefits of their experiences--Ed and his deep roots and Randy's work with Hendrix and other great artists,' says Scott. 'When we play together it's almost cosmic the way we're in tune and lock in together. Ten percent of what we play is live jamming and fun.' [.....] Scott lives in L.A. and scores music for movies and TV. Some of his recent work includes...Eye of the Storm starring Dennis Hopper and the TV movie Raven."
The last gig
Scott and Randy's last gig together was at a coffee house in the Los Angeles area on Saturday night of Thanksgiving weekend. Scott says "we had so much fun as a duo."