Spirit-a critical discography pt. 4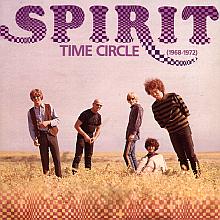 TIME CIRCLE (1968-1972)(1991)
Tracks: Fresh Garbage, Uncle Jack, Mechanical World, Taurus, Girl In Your Eye, Straight Arrow, Topanga Windows, Grammophone Man, The Great Canyon Fire In General, I Got A Line On You, It Shall Be, Poor Richard, Silky Sam, Sherozode, All The Same, Dream Within Dream, Aren't You Glad, Eventide, Model Shoppe Theme (The Moving Van), Green Gorilla, Rehearsal Theme, Fog, Now Or Anywhere, Dark Eyed Woman, So Little Time To Fly, Ground Hog, Ice, I'm Truckin', New Dope In Town, 1984, Sweet Stella Baby, Prelude-Nothin' To Hide, Nature's Way, Animal Zoo, Love Has Found A Way, Why Can't I Be Free, Mr Skin, When I Touch You, Street Worm, Morning Will Come, Turn To The Right.
Produced by: Lou Adler, Spirit and David Briggs.
This anthology was released in 1991 and features some previously unreleased material (not from the Sardonicus sessions), and the hard-to-find single b-side Sweet Stella Baby. The tracks from the first three albums sounds better here than on the Edsel reissues. The sound has probably been cleaned up with some re-mixing procedure. William Ruhlman's text in the accompanying booklet is well-written and informative. Personally I would have prefered a rareties album with unreleased material from the Sardonicus sessions (if there is any), Red Light Roll On and, of course live recordings. Maybe in the future !
LIVE AT LA PALOMA (1995)
Tracks: Life Has Just Begun, Sadana, Mr Skin, Hey Joe, I Got A Line On You, Prelude-Nothin To Hide, Like A Rolling Stone, Going Back To Jones, Living In This World, Magic Wand, Give A Life, Take A Life, La Paloma Jam-Electro Jam, 1984, Jamaica Jam, Super La Paloma Jam, Nature's Way.
Produced by Randy California.
This live album was (mostly) recorded in 1993 but released in 1995. The line-up here is Randy, Ed and Scott Monahan (keyboards/keyboard-bass and vocals). The new songs (Sadana and Going Back To Jones) are instant classics and there's also some great versions of older songs like Nothin' To Hide and Like A Rolling Stone. A couple of improvisatory jams also shows a different side of Spirits music that maybe isn't so obvious when listening to the studio albums. The new version of Nature's Way from the Chronicles album is also included here. Among the guest artists are John Locke who plays piano on I Got A Line On You and Living In This World. This is a great album that just gets better the more one listens to it !
CALIFORNIA BLUES (1996)
Tracks: California Blues, Look Over Yonder, The River, Call On Me, Crossroads, Song For Clyde, Pawn Shop Blues, Sugar Mama, Red House, Gimme Some Lovin', We Believe, One Word, Like A Dog, Poem For John Lennon, Shoes Back On, Tell Everyone, Soundtrack For A Moth.
Sadly, this was to be the last Spirit album to be released while Randy was still alive. There is still a lot of unreleased Spirit songs though, and I know Randy finished at least one more album before he died--Kaptain Kopter 2. \\ California Blues is a mixed bag of tracks, from the catchy title track, California Blues (with great slide guitar from Matt Andes!), to the acoustic Like a dog. Call On Me is a great ballad which greatly benefits from Rachel Andes excellent vocal performance. I believe this song could be a big hit if it was recorded by a more wellknown artist, like Bonnie Raitt. There are a few covers of other artists's songs on this album, and I think Gimme Some Lovin' is the one that works best. Other highlights on the record is Song For Clyde and The River. "Clyde" really shows the experimental side of Spirit's music, with heavily distorted vocals from Randy. One track that doesn't work that well IMO is a version of Robert Johnson's Crossroads. It feels kind of stiff and unimaginative. \\ The live tracks from 1967 is a great surprise (to me at least). This is two unreleased songs and an instrumental that would definitely have deserved to be included on the first album. "Soundtrack For A Moth" is a little masterpiece, an explosive instrumental with a great riff--I don't know how many time I've played this track since I got the record! \\ One thing that made me a bit disappointed is the lack of acoustic songs on the record. In an interview prior to the release of this record (see the "Randy California phones home" section) Randy said that the record would have a traditional, acoustic feel. But this idea must have been abandoned along the way, and there is only one or two acoustic tracks on the album. Maybe some of the stuff they recorded was to be saved for an unplugged album? Let's hope so. I also expected "Miss This Train" to be on the record, but unfortunately it isn't. Spirit started performing this song a long time ago, it was played at the "Rockpalast" concert in Germany in 1978. I would also like to say that of all the Spirit albums released on their own WERC CREW label this one has the best designed cover!
LIVE AT THE RAINBOW (1999)
Tracks: Looking Down, Animal Zoo, 1984, Nature's Way, Hollywood Dream, All The Same, I Got A Line On You, Downer, Wild Thing, Rock'n Roll Planet*, Nature's Way*, Animal Zoo*, 1984*, All The Same*, I Got A Line On You*, These Are Words*, Hollywood Dream*.
This CD is another variation on the Spirit Live/Live Spirit/Made In Germany theme. It's got all the tracks from "Spirit Live" + 8 tracks recorded in "Tampa & Miami Florida USA 1978". These are the same tracks that are already on Made In Germany, so some of the songs appear in two versions. When comparing this release with MIG, the only track that is missing is "Rockpalast Jam". The sound is IMO a bit better than MIG, the most pronounced difference is that the bass seems to be slightly louder in the mix. So of all the versions of this album, this is one that gives most value for the money so far.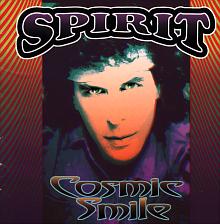 COSMIC SMILE (2000)
Tracks: Shake My Ego Down, Barkin' Up The Wrong Tree, Compromise, No Time To Pretend, Close To You, Mean And Beautiful, One By One, Fire, Wave, Love From The Heart, I Had A Dream, River Of Love, Break My Back, Cosmic Smile, Can't Sit Down (Livin' On Love).
This CD is the first in what hopefully will be a long series of Spirit albums released posthumously after the death of guitarist Randy California. In the CD's liner notes Bruce Gary says:
"There's mountains of material. Randy was always writing and recording music. There's tons of stuff in the archives. There's so much. We haven't even listened to half of it. We want to expose the greatness of Randy California to the world."
I think this CD does a great job in showing the world the greatness of Randy California. All the material is from the nineties, some sound like demos, others are finished recordings. Randy plays all the instruments on many tracks, but is also joined by Ed Cassidy, Matt and Rachel Andes, Scott Monahan and others. My first impression was: "I like everything except the instrumentals!". There's three instrumental tracks on the album; Mean And Beautiful, Wave and Can't Sit Down (Livin' On Love). After listening to the album for a while I've grown really fond of Wave, but the other two I still don't like - particularly not Mean And Beautiful. Other than these two tracks it's really hard for me to find anything on this CD I don't like.
This album mostly shows the laid back bluesy and melodical side of Randy's work. Shake My Ego Down is one of favorite tracks and it's also one of the few songs on the album that really rocks hard. Super slide guitar from Matt Andes! Close To You on the other hand, sounds like a "Spiritual" JJ Cale song. No Time To Pretend is another of my favorite tracks, it's an uptempo pop song with Randy sings mostly with a "stern old man" voice, and it's got some great guitar playing at the end. The title track is The Other Song from the Son Of Spirit album re-recorded in 1993. The original version is pretty much the only track I really like on Son Of Spirit, but this new version is even better!
The more experimental side of Spirit is shown in One By One, which starts of sounding like a Love From Here-jam with Scott and Cass, but develops into something entirely different. Fire is not a cover of the Jimi Hendrix song with the same name like I thought when I first saw the track listing, but a very beautiful song performed by Randy alone with his acoustic guitar. It's another highlight on a very well put together album that all Spirit fans should own as soon as possible!:-)
Sea Dream (2002)
Tracks: Disc 1: Cages, Just for You, Line By Line (Water in the Eyes), Jack Rabbit, Jailhouse, Father and Son, Ego Spray, Suntronics, Center for Truth, Shock of Confusion, Dirty, Fallen Hero (Ode to JFK), 2000 Miles, Farther Along.
Disc 2: Hare Sai, Hello Goodbye, His Love.
Sea Dream Suite: Whale, Heaven, Sign, T4/Sai Baba, Daylight, Dolphin, Garden of Creation, Heaven.
Nature's Way [Instrumental], Bhagavaghita (Loving You Is Singing Your Song), Question One.
Sea Dream is the second posthumous album to be released after Randy's death. It's a double CD with a mixed bag of tracks. The album features a variety of production and arrangement styles which can be confusing when listening to it the first time. But I also think that many Spirit fans will find some new favorite songs somehwhere on these CDs. Randy plays all the instruments on many tracks, but Spirit members Ed Cassidy, Scott Monahan and others also make appearances.
Some track by track comments:
Cages - very similar to previousy released (but rare) version. I read in the liner notes that there was a faster version of this song recorded - I would like hear that one, I always thought the studio version was too slow...
Just For You - great atmospheric ballad with an intense processed vocal from Randy.
Line By Line (Water In The Eyes) - a great song written by Scott Monahan. Unfortunately only a cassette copy was found so the sound quality is not the best.
Jack Rabbit - Interesting variation, if not necessarily an improvement on the original.
Jailhouse - laid back rock song with positive lyrics. One of the songs that improves with time.
Father and Son - beautiful ballad, sounds great despite the source being a cassette. A minor Spirit classic!
Ego Spray - a fun little song...
Suntronics - fascinating Randy/Cass instrumental that gets better with each listen.
Center For Truth - don't know what to say about this one.
Shock Of Confusion - great groove, lots of overdubs, a bit long...
Dirty - angry little rocker with drum machine beat.
Fallen Hero - similar to already released version.
2000 Miles - okay but not great live version of this unreleased song.
Hello Goodbye - cool instrumental arrangement of this great Beatles song. Great guitar sound.
His Love - also known as The Sun. Great song.
Sea Dream Suite - this is an unfinished tribute to the sea from Randy. Many beautiful melodies with that typical Spirit sound known from Nature's Way and other classics.
Here's some info from Bruce Gary regarding the original running order for the Sea Dream suite:
"Hi Johan. According to my notes, The order on Randy's Dat tape for Sea Dream was as follows: 1. Daylight 2. Whale 3. T4 4. Sai Baba 5. Heaven (voc) 6. Sign 7. Hello Goodbye 8. Heaven (voc) 9. Dolphin 10. Garden 11.Heaven (instrumental)
P.S. To clear up confusion as far as "Heaven (voc)" being included twice in the above list..... Randy was obviously still working out a proper lineup for the piece. On his list, after the 1st inclusion of "Heaven voc", he had "Dolphin" added a second time as well but then firmly crossed it out from that position. There is (as far as I know from from archiving Randy's tapes) only one "Sea Dream" compliation tape found that Randy constructed. BG"