Michael Fondiler
This is the story about Mike Fondiler, who was a member of the bands The Red Roosters and Western Union which were prototypes for Spirit. Mike Fondiler went to the same school as the Andes brothers and Jay Ferguson; Chatsworth Highschool in the San Fernando Valley. The story about the early incarnations of Spirit goes like this: Jay Ferguson and Mark Andes met Randy Wolfe at a folk music camp in the mountains outside of Los Angeles. They hit off musically, and decided to form a band together. The name of the band was The Red Roosters, and the band members were: Jay, Mark, Randy, Mike Fondiler and Ed Cassidy. In the Time-circle booklet Barry Hansen says: "They were a folk rock band, to put it pretty simply. Randy would play these Chuck Berry double note leads over the light folk-rock that the rest of the Roosters laid down. They would do versions of blues and folk-blues tunes that Randy had perhaps been exposed to through being around the Ash Grove, plus they would do originals that Jay had written and maybe a couple that Mike Fondiler wrote." The band split up when Ed Cassidy moved with his family to New York, where Randy played with Jimi Hendrix for a while in Jimmy James and the Blue Flames. The other guys in the band, Jay, Mike and Mark, along with Matt Andes formed a band called Western Union. This band almost got a recording contract, but when this didn't happen, the band broke up. In 1967 Jay and Mark was reunited with Randy and Cass at a love-in in Los Angeles, and they went on to form Spirit with John Locke. I don't know what Mike did between 1966-1970, but somewhere at the beginning of the 70's or at the end of the 60's, Mike formed a band called American Rainbow with a singer/songwriter called Tom Snow. Mike played rhytm guitar, Tom Snow piano and Mike's brother Steve played bass. After being chased by every major label, American Rainbow signed with Atlantic Records. Atlantic created (for tax purposes) a special label just for them - Clean Records. Atlantic also added a drummer (Bobby de Simone) and a lead guitarist (Ian Espinosa), and changed the groups name to Country. They released their self titled debut album in -71. It had the following songs on it:
Side One: Beverly Glen, Love Quite Like Her Kind, Give My Best To Everyone, Traveling Salesman, Janie, Going Away.
Side Two: Fine And Easy, It's All The Same, Man From Alabama, Aragon Ballrom, Killer, Rock And Roll Heaven.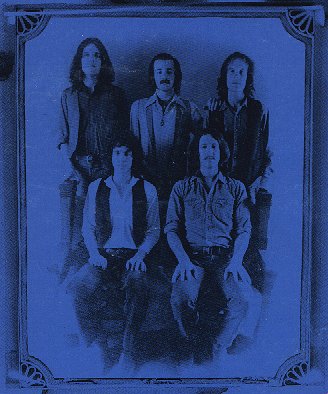 Group photo from the record cover
It's a solid country rock album, with some outstanding tunes; Beverly Glen and Killer are my favorites. There was a guest appearance from Mark & Matt Andes on Killer, where Matt played rhythm guitar and Mark played bass. Ahmet Ertegun produced one song (Aragon Ballroom) and Peter Asher was the bands manager. Unfortunately, after the first album thing blew up due to problems with the record company. Tom Snow left the band and a second album was left unreleased. After this I don't know what happened to Michael, except that sadly he died in March 1980. Tom & Mike wrote approximately 50 songs together, most of them are (as far as I know) still unreleased. Apparently much of what is on their first album is weaker material, and there should be some great unreleased material. Tom Snow later became a very successful songwriter, and among the tunes he's written are: Love's sneakin' up on you (Bonnie Raitt), Don't know much (Linda Rondstadt & Aaron Neville), He's so shy (Pointer Sisters) and many more.
(most of the info above was given to me by Kenneth Stern in L.A.-thanks Kenneth!)