http://www.amazon.co.uk/Country/dp/B00B5H18F8/ref=sr_1_6?s=music&ie=UTF8&qid=1376424084&sr=1-6&keywords=country
Jo Jo Gunne's albums have been re-released once again, check out http://www.artist-shop.com/wounded/ . The Wounded bird release is with bonus tracks (same as the Rhino releases?). There is also a 2-cd set from Edsel containing these albums without bonus tracks. Also check out these obscure youtube videos featuring Jay:
JBL Images of Music:
http://www.youtube.com/watch?v=Tj9no17Rrmc
Inside Santa Barbara:
http://www.youtube.com/watch?v=JFuzxk-RIic
The Action Design - Studio Vlog - Day 1,
First day of tracking 2 new songs in Santa Barbara with Producer Jay Ferguson. 11.16.09:
http://www.youtube.com/watch?v=0QsbjZ9NhHs
http://www.youtube.com/watch?v=p3-AV2_mc9s
(there's more stuff if you look around...)
"Cass was included in last nights Grammy Award show with the tribute to the artists who passed away in 2012. The Jan/Feb 2013 edition of DRUMHEAD magazine has a two page tribute to Cass with pictures. There is also a piece in the January 2013 issue of RECORD COLLECTOR. I expect there will be more to come."
2012-12-15: The 1999 interview with Jay Ferguson is back online!
2012-12-09: A few links to articles about Cass death on the web:
http://www.latimes.com/news/obituaries/la-me-ed-cassidy-20121208,0,5161292.story
http://www.classicrockmagazine.com/news/spirit-drummer-ed-cassidy-dies-at-89/
http://ultimateclassicrock.com/spirit-drummer-ed-cassidy-dead-at-89/
http://www.hollywoodreporter.com/news/spirit-drummer-ed-cassidy-dies-399634
Photo: Stella Weiss. © Bruce Pates. May not be used without permission.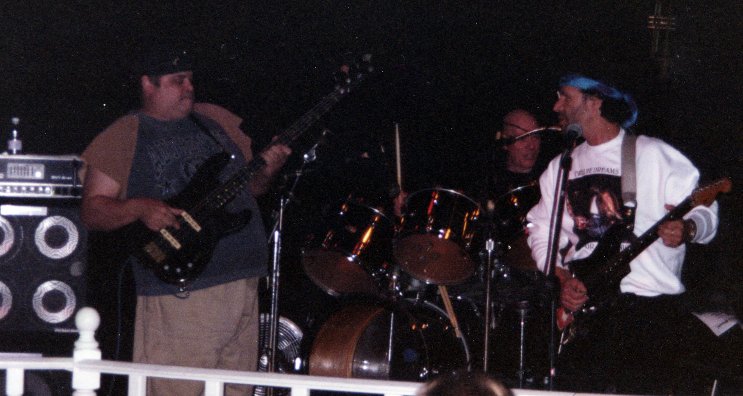 Photo by John Fulton.
2010-01-20: RIP Liberty. Bad news from the Spirit mailing list (this was posted by Bruce Pates): "I'm sorry to report the passing of SPIRIT and Randy California Band bassist Steve "Liberty" Loria. Liberty played in the first Randy California Band in 1979, and then in SPIRIT from 1980 - 1982. In the later years, he reconnected with the band for recording and live performances. He was the last bass player in the band in 1996, and had planned to tour with SPIRIT on the 1997 European tour that was canceled due to the death of Randy California. If I hear any more details, I will post them."
2009-12-06: New Spirit CD coming in January, information from spincds website: Spirit - The Last Euro Tour (2CD)
Release Date: 25 Jan 2010, Label: Evangeline, Format: CD (two).
More from the archive of Randy California. This set, compiled and re-mastered by Mick Skidmore, looks at the last European tour by Spirit that took place in 1991. Compiled from shows recorded in Hamburg, London, Vienna, Frankfurt, Nuremberg and Lnz in November of that year. Features Randy California, Ed Cassidy and Mike Nile performing spirited renditions of "Fresh Garbage", "Dark Eyed Woman" and "Uncle Jack" with live favourites such as "Hey Joe" and "like A Rolling Stone".
2009-09-10: Spirit Rockpalast concert is out on DVD; 'Spirit - Rockpalast - West Coast Legends Vol.3'.
Check out a new article about Spirit in Shindig magazine (http://www.shindig-magazine.com/), issue number 12 (sept-oct) 2009.
There's also a 'Play Like Randy California' feature in Guitar and Bass Magazine (October 2009);
http://www.guitarmagazine.co.uk/.
2009-06-10: Bad news. Bernice Pearl, Randy California's mother died June 6.
May she rest in peace.
2009-05-03: Spirit's Rockpalast concert from 1978 is out now on DVD.
Should have reported this before, it's been available for a while now.
2009-04-20: Long time Spirit keyboard player Scott Monahan releases solo album!
Includes his version of Jack Rabbit.
More info here: http://songsfromcalifa.com/
2009-03-01: Mark Andes releases solo album!
More info here: http://www.markandesmusic.com/
2009-03-01: New Spirit release - California Blues Redux
New 2-CD set produced by Mick Skidmore
More info at: http://www.audiofidelity.net/