...a critical discography...
j a y f e r g u s o n
All Alone In The End Zone (1976)
Tracks: Snakes On The Run, Turn It Up, Medicated Goo, Madam Doktor, All Alone In The End Zone, Cinnamon City, To The Island, Hit And Run, Everybody Goes From Here, Time And Time Again.
Produced by Bill Szymczyk.
The first solo album from Jay is mostly good but there are maybe a couple of tracks that sound like filler (Turn It Up, Time And Time Again). The sound is much less hard rock orientated than Jo Jo Gunne and it sounds a bit like the Eagles without the country influence. And Eagles-guitarist Joe Walsh is actually part of the band on this album along with Joe Vitale (drums), George Perry (bass) and Joey Murcia (guitar). Jay handles the keyboards as usual. My favorite tracks are: Snakes On The Run, Cinnamon City, Hit And Run, Everybody Goes From Here and Madam Doktor. There's also a cover of Traffic's Medicated Goo and a remake of Jo Jo Gunne's To The Island. To The Island is one of Jay's best songs, though I prefer the version on Jumpin' the Gunne over this one. This album is a must-have for all Jay Ferguson fans.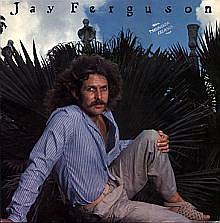 Thunder Island (1977)
Tracks: Thunder Island, Soulin', Happy Birthday, Baby, Losing Control, Cozumel, Night Shift, Babylon, Love Is Cold, Happy Too!, Magic Moment.
Produced by Bill Szymczyk.
This album contains the hit single Thunder Island and many other great tracks. The second track on the album, Soulin', is in my opinion one of the best songs Jay has ever written. Other favorites are Night Shift and Love Is Cold (great bassline from Ed Brown on this song!). There are a couple of weaker tracks also, but it's still a great album.

Jay Ferguson/Live
Tracks:Paying Time, Cinnamon City, Babylon, Medley: a) 60 Minutes To Go, b) Run Run Run, c) Mr Skin, d) I Got A Line On You, Thunder Island, Losing Control, To The Island, Snakes On The Run, Medicated Goo.
Produced by: Jay Ferguson
This is a very rare album, I think only 200 were made, it's in the "Superstars Radio Network" series. It's a live-in-the-studio album, so the soundquality is better than the average live album. Jay is in good form here, playing great versions of Paying Time and Snakes On The Run. The musicians on the album are: Jay; keyboards & vocals, Bob Webb; guitar, Harold Cowart; bass and Curly Smith; drums. For some reason I Got A Line On You is credited to Jay Ferguson/Randy California -a mistake?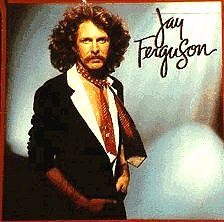 Real Life Ain't This Way (1979)
Tracks: Shakedown Cruise, No Secrets, Real Life Ain't That Way, Davey, Turn Yourself In, Do It Again, Paying Time, Too Late To Save Your Heart, Let's Spend The Night Together; Have You Seen Your Mother, Baby, Standing In The Shadow?, City Of Angels.
Produced by Jay Ferguson and Ed "Radar" Mashal.
This is my favorite Jay Ferguson album! Not a weak track in sight! It sounds a lot like the previous albums, but the quality of the songs is much more consistent throughout the album. My favorite tracks: Shakedown Cruise, Do It Again, Too Late To Save Your Heart, Paying Time, Turn Yourself In and the title track. Essential!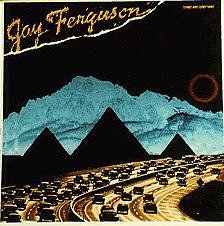 Terms And Conditions (1980)
Tracks: Love At The Red Line, Modern Girl, This Is Your Life (Take A Little, Take A Lot), The Last Laugh, Missing Persons, You Should Know Better Than That, Local Colour, Hard Enough Being A Man, My Baby's Eyes, The Juggler.
Produced by Jay Ferguson and Michael Verdick.
This album sounds more commercial and less inspired than it's predecessors. Some of the stuff here is really mediocre, especially Modern Girl, which IMO is worst song Jay has ever written. The lyric is daft, and musically it's a carbon copy of his own Couldn't Love You Better from the Jumpin' The Gunne album. There's three great songs here though; Local Colour, The Juggler and the great melancholic ballad Missing Persons.These songs are among Jay's best.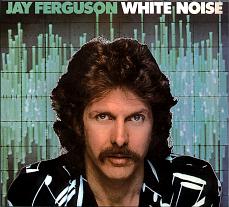 White Noise (1982)
Tracks: White Noise, I'm Down, I Come Alive, Inside Out, Empty Sky, Tonite (Fallin' For Ya'), Baby Come Back, The Heat Of The Night, Million$, She's Mine Tonight.
Produced by Michael Verdick and Jay Ferguson.
This is the weakest Jay Ferguson album, in my opinion there's only two tracks that are really worth listening to; Inside Out and Empty Sky. The title track and I'm Down (a cover of the Beatles tune) also isn't too bad, but it certainly isn't Jay at his most inspired. The rest is rest is dull MOR rock. Randy California guests on the title track, the only time he played on one of Jay's albums. In 2000, this album was relased on cd by Magic Records in France. The CD sounds a lot better than the LP, so IMO it's worth buying.