Spirit
Live In Concert
(VHS video and DVD)
Songs: I Got A Line On You, Nature's Way, Island Of Roses, 1984, Miss This Train, Sweet Child, Nothin' To Hide, All The Same, Animal Zoo.
This is video/dvd was released last year, but I haven't been able to review until now, simply because I bought the dvd-version and I didn't have dvd-player until yesterday!;-) There hasn't been many Spirit videos available throught the years, the only ones I know are the video from the 1984 re-union, The Spirit Video History and The Ed Cassidy Story. The last two were released privately by Spirit themselves. This one is produced by Bob Crosby and Jim Kennedy of Woodhaven Entertainment ( http://www.intermediavideo.com ) and the footage is taken from a 1986 Spirit gig at the Summerfest festival. The band members: Randy California (guitar and vocals), Scott Monahan (keyboards and vocals), Walter Egan (bass and vocals) and Ed Cassidy (drums). Yes, it's Walter "Magnet and Steel" Egan on bass, not John Locke (!) as the cover erroneously states. What a line-up!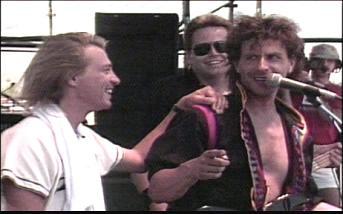 Scott, Walter & Randy
The band is fine form and plays great gig in front of enthusiastic audience. The sound quality is OK - don't know about surround sound etc. because I only have a regular stereo system. The only problem with the video from my point of view is that it is too short!;-) The band plays ten songs, so the video is approximately 45 minutes long. I would have liked the double - at least!;-) As you probably have noticed from the track listing above, two of the songs the band perform are previuosly unreleased on CD/LP - "Island Of Roses" and Scott Monahan's "Sweet Child". Two great songs that makes this video even more interesting! This video/dvd should be available from the usual places on the web like Amazon and CDNOW- for more info check out the Intermedia website. Let's hope that there's more where this came from.
Cass
Category: Spirit