Spirit-a critical discography pt.1
Some additional information about Spirit lp:s, cd:s & singles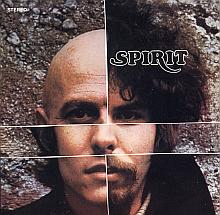 SPIRIT (1968)
Tracks:Fresh Garbage, Uncle Jack, Mechanical World, Taurus, Girl In Your Eye, Straight Arrow, Topanga Windows, Grammophone Man, Water Woman, The Great Canyon Fire In General, Elijah. Extra tracks on 1996 re-issue: Veruska, Free Spirit, If I Had A Woman, Elijah (alternate take).
Produced by Lou Adler, string and horns arranged by Marty Paich.
This is the first Spirit-album, and it contains some off the groups best known songs, such as Fresh Garbage, Mechanical World and Elijah. I like it, but as Randy California said in the liner notes to the Time Circle-album: "People like the album, but I think it could have hit harder [.......] I believe that the guts and balls of the group were taken out of the first record." Marty Paichs horn and string arrangements are a real treat, and it's a pity that there wasn't anyone around with the same competence to handle the rest of the production. Spirit re-recorded some of these songs for the "Thirteenth Dream"-album, and I think especially Fresh garbage sounds better on that album. Note how Led Zeppelin borrowed the opening of Taurus and used it for the intro of Stairway To Heaven . I think Led Zeppelin also played Fresh garbage at some of their early gigs. Another idea Zep got from Spirit was to use a so called theremin to extract weird sounds. "It was an oscillator-the closer you get to the aerial, the higher the pitch went. I recall seeing the group Spirit use one" ( Jimmy Page in the book "Jimmy Page-tangents within a framework" by Howard Mylett). Despite the criticism above this album is a classic and an essential purchase for all Spirit- fans. Re-issue 1996: this is a new re-issue from sony that re-places the Edsel CD:s that I'm used to. There's four bonus tracks, sleeve notes by Randy California, better soundquality and great pictures in the booklet. How about those bonus tracks? Are they any good? Yes, especially Veruska and Free Spirit are very good! Veruska: This composition has previously been released on the "Spirit of 76" album, but I think this version is much better. It's an instrumental written by Randy with a strong Hendrix influence, and it's much heavier than any other song on this album. This track is IMO better than some of the tracks included on the original album. Free Spirit: This is a great jazzy, atmospheric instrumental by John Locke with tasty solos from Randy, Mark & Ed. One of the best instrumentals Spirit has recorded. If I Had A Woman: This is a Lou Adler produced version of the song that first appeared on the Chronicles album. Production is better, but the bands performance was perhaps better on the Chronicles version. Elijah:This version has different solo's etc.
THE FAMILY THAT PLAYS TOGETHER (1969)
Tracks: I Got A Line On You, It Shall Be, Poor Richard, Silky Sam, The Drunkard, Darlin' If, All The Same, Jewish, Dream Within A Dream, She Smiled, Aren't You Glad. Extra tracks on 1996 re-issue: Fog, So Little To Say, Mellow Fellow, Now Or Anywhere, Space Chile.
Produced by Lou Adler, strings and horns arranged by Marty Paich.
This, the second Spirit album was released in 1969 and featured Spirits only hit-single, I got a line on you. The sound is a bit heavier here, and the writing is more varied, perhaps because Randy California wrote or co-wrote almost half of the tracks (on the first album he was only allowed to contribute one track, "Taurus"). One of the best tracks is the Randy California/John Locke collaboration It Shall Be. To me the outstanding tracks are I got a line on you , It shall be, Silky Sam, All the same and Jewish . Jewish is one of those tracks who could only appear on a Spirit-album! I Got A Line On You has recently been covered by Jeff Healy on his album Cover To Cover. This album is a must for all Spirit-fans. 1996 re-issue: Like the other album's in this re-issue program, this one has additional tracks (5), improved soundquality, and a booklet with notes from Randy and bunch of rare and unseen pictures in the booklet. Here are some short reviews of the bonus tracks: Fog: This moody instrumental has previously been released on the Time Circle compilation. So little to say: This is a great track! A beautiful ballad composed by Jay and arranged with strings and horns. Mellow Fellow: Another John Locke instrumental, with some great soloing from Randy. Now Or Anywhere: This track was first released on the Time Circle compilation. It's a great track, but IMO somehow it doesn't seem fully developed. Space Chile: This is not a different version of the Sardonicus track, it's a another John Locke composition. Great melody, some parts of this track sound like it could have been great with vocals.
CLEAR (1969)
Tracks: Dark Eyed woman, Apple Orchard, So Little Time To Fly, Ground Hog, Cold Wind, Police Man's Ball, Ice, Give A Life, Take A Life, I'm Truckin', Clear, Caught, New Dope In Town. Extra tracks on 1996 re-issue: 1984, Sweet Stella Baby, Fuller Brush Man, Coral.
Produced by Lou Adler.
Late in 1968 (I think) the band started working on the soundtrack for the film "The model shop", which was directed by Jacques Demy. The film was a flop, but some of the music from the soundtrack made it on to Spirits next album. It's perhaps the jazziest of the Spirit albums, and I like that. One of the best songs Jay Ferguson has written is here also , Cold Wind . Other outstanding tracks are Give A Life, Take A Life, Time To Fly and Ice . There are some weaker tunes also, Dark Eyed Woman for example-to me this track sounds too much like a bad Jimi Hendrix pastiche. There's a different and (IMO) much better version of this track in "Video history vol. 2". 1996 re-issue: The bonus tracks on this CD are very interesting. First there's the 1984/Sweet Stella Baby single. The a-side is one of the strongest tracks from the original line-up, and "Sweet Stella" ain't bad either. When reading the sleevenotes I learn that 1984 was recorded the same day (69.10.10.) I was born! And after those two comes Fuller Brush Man which is a fantastic never before released track. This track is hard to describe, it's not exactly "middle of the road"..... Could somebody explain to me what the lyrics are all about? I suspect they are about a drug dealer, but I could be wrong. The last bonus track is Coral, a great instrumental track by Cassidy/Locke.
1984/SWEET STELLA BABY (1970)
Produced by Spirit
This single came out in the period between the Clear-album and the Sardonicus-album. 1984 is a classic song with a very powerful guitarsolo. The production is a lot better here than on earlier releases, probably because Lou Adler had given up on the band at this point. The b-side, Sweet Stella Baby , wasn't released on an album until the Time Circle compilation in 1991.
ANIMAL ZOO/RED LIGHT ROLL ON (1970)
Produced by David Briggs.
This was another single that preceded the Sardonicus-album. The b-side is an interesting curio that has never appeared on any album.
TWELVE DREAMS OF DR. SARDONICUS (1971)
Tracks: Prelude-Nothin' To Hide, Nature's Way, Animal Zoo, Love Has Found A Way, Why Can't I Be Free, Mr Skin, Space Child, When I Touch You, Street Worm, Life Has Just Begun, Morning Will Come, Soldier. Extra tracks on 1996 re-issue: Rougher Road, Animal Zoo, Morning Will Come, Red Light Roll On.
Produced by David Briggs, horn arrangements by David Blumberg.
This, the last album from the original lineup, is to me one of the the greatest albums ever made. It's got everything- fantastic songs-great production-competent and inspired musicians! The sound is more psychedelic with guitars zooming between the speakers and a lot of backwards tapes. The songwriting is more consistenly mature than on the previous albums. The album was initially a failure commercially, and this sadly led to the group breaking up. Ed Cassidy said in the Time Circle booklet: "There was frustration (...) we had had what we thought was going to be successful, and I think everybody started to think, 'Maybe it's not working. Maybe it's time to move on.' This was sort of like 'The last hurrah', so to speak, and I think that's one of the reasons why it became a classic album. It was advanced for it's times, doing a lot of things electronically that were not being done, and the arranging of songs and how we had initiated the blending of one song into another." Q-magazine wrote: ".......songs full of drama, distinguished by by heartbreaking shifts in rhythm and harmonics. Nature's Way is simply one of the most moving ecological pleas ever written (19 years ago!) and that follows his stirring prelude Nothin' to hide. Their musical discipline made Spirit the least obviously psychedelic of the West Coast bands (....) though Twelve dreams is certainly infused with many moments of heightened theatricality, of which the penultimate track, Morning Will Come, is a magificent hymn to hope, it's optimism emphasized by the huge arrangement." (Monty Smith, Q-magazine, July 1989). This album is a must-have for all Spirit-fans! 1996 re-issue: The bonus tracks here are the rare b-side Red Light, Roll On, the single version of Animal Zoo, an alternate mix of Morning Will Come and a previously unheard song, Rougher Road. This is great song that really deserved to be released!
FEEDBACK (1972)
Tracks: Chelsea Girls, Cadillac Cowboys, Puesta Del Scam, Ripe And Ready, Darkness, Earthshaker, Mellow Morning, Right On Time, Trancas Fog-out, Witch.
Produced by David Briggs and Spirit.
When this album was released, only two members of the original group remained--Ed Cassidy and John Locke. Two new members had been recruited--Al and Chris Staehely. The album sounds perhaps more like Jo Jo Gunne than Spirit, and it wasn't a great success.