Spirit-a critical discography pt. 2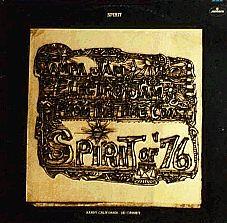 SPIRIT OF '76 (1975)
Tracks: America The Beautiful, The Times They Are A' Changing, Victim Of Society, Lady O' The Lakes, Tampa Jam Pt 1, Maunaloa, What Do I Have, Sunrise, Walking The Dog, Tampa Jam Pt 2, Joker On The Run, When?, Like A Rolling Stone, Once Again, Feeling In Time, Happy, Jack Bond, My Road, Tampa Jam Pt 3, Thank You Lord, Urantia, Guide Me, Veruska, Hey Joe, Jack Bond Pt 2, The Star Spangled Banner.
Produced by Randy California.
In 1975 Spirit (Randy California, Ed Cassidy and Barry Keene-bass) secured a recording contract with Mercury and released this double album. The sound is softer and more acoustic based than before. There's a lot of good music here, but also a couple of dull tracks. My favorite tracks here are: America The Beautiful, The Times They Are A' Changing, Urantia, Sunrise, Lady O' The Lakes and Victim Of Society. This album has not been released on CD, but many of the tracks are included in the recently released Mercury yearscollection.
SON OF SPIRIT (1975)
Tracks: Holy Man, Looking Into Darkness, Maybe You'll Find, Don't Go Away, Family, Magic Fairy Princess, Circle, The Other Song, Yesterday, It's Time Now.
Produced by Randy California.
One of Spirit's weaker efforts. There's probably a lot of Spirit fans who like this album, but it doesn't appeal to me. I think the music is to soft and laidback, there's nothing that really rocks here. The lyrics isn't my cup of tea either, too much talk about Holy men and Magic Fairy Princesses. There's one track that I like though-The other song, probably one of the most obscure Spirit songs ever! This album was released on CD on the Great expectations label a couple of years ago, but I think it has gone out of print now. Some of the tracks are included on the Mercury years collection.
FARTHER ALONG (1976)
Tracks: Farther Along, Atomic Boogie, World Eat Dog, Stoney Night, Pineapple, Colosuss, Mega Star, Phoebe, Don't Lock Up Your Door, Once With You, Diamond Spirit, Nature's Way.
Produced by: Al Schmidt.
Farther along reviewed by Nick Moroney:
FARTHER ALONG: Imagine, if you will, a Spirit reunion (minus Jay Ferguson) which leads to an album's worth of excellent and original jazz and soul influenced rock material buoyed by the best songwriting since SARDONICUS. Surprise! FARTHER ALONG is vintage Spirit, a worthy successor to the classic first four albums. Mark's brother Matt Andes [also ex Jo Jo Gunne] joins the boys for 11 new songs and an instrumental "Nature's Way" featuring a lush and tasteful orchestral arrangement. Ed Cassidy remembers the band watching proudly as Randy's anti-pollution anthem was transformed by maestro Don Henderson. Also particularly worthy of note, "Atomic Boogie" which pokes fun at the perpetrators of the Arms Race, and "Diamond Spirit" which stands out vocally on an album featuring harmony singing (and vocal double-tracking) to take the breath away. FARTHER ALONG is one of Ed's favorite Spirit albums and you can hear why. SARDONICUS'S David Blumberg returns to render blastingly effective horn arrangements and there isn't a duff track on the album. Fans who enjoy the brighter, jazzier side of Spirit found on earlier albums (especially CLEAR) will not miss the harder edge missing here. Outside producer Al Schmitt concentrates on the intrinsic merits of the songs and the band plays across a complex sweep of styles and the playing is TIGHT. It is to be hoped that the compiler of the collection of Spirit's run with Mercury/Phonogram will draw heavily on FARTHER ALONG [and SPIRIT OF '76] as it remains the best single album from those years and far outdistances THE SPIRIT OF '84.
FUTURE GAMES (1977)
Tracks: CB talk, Stars Of Love, Kahauna Dream, Buried In My Brain, Bionic Unit, So Happy Now, All Along The Watchtower, Would You Believe, Jack Bond Speaks, Star Trek Dreaming, Interlude XM, China Doll, Hawaiian Times, Gorn Attack, Interlude 2001, Detroit City, Freakout Frog, The Romulan Experience, Monkey See, Monkey Do, MT Olympus, The Journey Of Nomad, Ending.
Produced by Dr. Sardonicus.
Future Games reviewed by Nick Moroney:
FUTURE GAMES: By 1977 the Spirit reunion that had fired FURTHER ALONG was dissipated as the band again went their seperate ways and FUTURE GAMES is essentially a Randy solo project; however unlike Randy's hard rocking 80's albums. As the tapes were delivered to Mercury/Phonogram you can almost hear the wailing and gnashing of teeth followed by screeches of "How are we supposed to market this: a collection of melodic doodlings and samples of Star Trek?" The hair pulling would have started right at the CB craze inspired intro. "CB talk" ("Breaker breaker" anyone?!). Many fans have aquired a taste for FUTURE GAMES and it is a favorite among those Spirited folks who enjoyed Randy's SPIRIT OF '76 and KAPTAIN KOPTER era sonic experiments. Unlike SARDONICUS, where the electronic bits and bobs seamlessly highlight the songs, Randy's ramblings are the main event here. There is little evidence of fellow Spirits as Randy is joined by songwriting co-conspirators including Kim Fowley, doyen of the alternative party scene in the LA of the late '70's. The presence of an emaciated take of Randy's favorite Dylan song, "All along the watchtower" [try the Hendrix inspired "Night of the guitars" version on SPIRIT: A VIDEO HISTORY] does little to counter feelings that FUTURE GAMES was a brave but miscalculated experiment. To my mind, the best piece of music on the album comes in the form of the unadorned piece that seperates "Would you believe" and the incomprehensible "Jack Bond speaks" at the end of side one. It's just a few seconds of unplugged Randy, singing a beautifully controlled melody over his acoustic guitar. More please! Ed Cassidy is the only other member of Spirit who had anything to do with the writing for FUTURE GAMES and his and Randy's good humored ditty, "Freakout frog", conjures warm associations to POTATOLAND. FUTURE GAMES remains an interesting curio for those with a nicely warped sense of humor and few preconceptions about what a Spirit album should be.
SPIRIT LIVE (1978)
Illegal records ILP 001
Tracks: A: Looking Down, Animal Zoo, 1984, Nature's Way, Hollywood Dream.
B: It's All The Same, I Got A Line On You, Downer, Wild Thing.
Produced by Randy California and Paul Chas Watkins.
This album is not available on CD, but most of the tracks (slightly re-mixed) are on the "Made in Germany" CD which is available as an import from Germany or Holland. Downer and Wild Thing are not available on CD.
LIVE SPIRIT (1978)
Potato Records PR2001
Tracks: A: Rock And Roll Planet, Nature's Way, Animal Zoo, 1984, Looking Down
B: All The Same, I've Got A Line On You, These Are Words, Hollywood Dream
Produced by Randy California With: Paul Chas Watkins, Bob Burnham and Bob Lee.
This album is not available on CD, but the same tracks (slightly re-mixed) are on the "Made in Germany" CD which is available as an import from Germany or Holland.
MADE IN GERMANY (1978)
Tracks: Rockpalast Jam, Nature's Way, These Are Words, 1984, Animal Zoo, Rock'n Roll Planet, Looking Down From A Mountain, Hollywood Dream, All The Same, I Got A Line On You.
Produced by: Randy California with Paul Watkins,Bob Burnham, Bob and Mike Lee.
This live album has been released in three different versions, but this is the best one. There's three great songs here that is not available anywhere else; These Are Words, Rock'n Roll Planet, Looking Down From A Mountain and Hollywood Dream. It's difficult to understand why these songs have never been released on studio albums, because they are in my opinion far superior to the songs on albums like Son Of Spirit, Farther Along or Potatoland. This CD is an important addition to your collection of Spirit albums, and it is available as an import from Germany and Holland.
Potatoland (1981)
Tracks: We've Got A Lot To Learn, Potatoland Theme, Open Up Your Heart, Morning Light, Potatoland Prelude, Potatoland Introduction, Turn To The Right, Donut House, Fish Fry Road, Information, My Friend.
Produced by Randy California, Michael Lee and Robert Lee. Executive producer: Ed Cassidy.
Potatoland CD on Chord CD010 has additional cuts Salvation, Potatoland March-Midnight Train, Oil Slick-Million years Information Suite, Mashed Potatoes, 1984 reprise and It's Time Now.
Potatoland reviewed by Nick Moroney:
Released in Apr. 1981 by Beggar's Banquet in England, after Randy and Ed-who had co-created the project years before, finally found a company willing to take a chance on it. England's BBC Radio 1's John Peel had championed the piece and played extracts from earlier versions of POTATOLAND. Randy and Ed re-recorded new versions of many of the songs. The Beggar's Banquet album leaves out a substantial portion of the total amount of songs Randy & Ed recorded down through the years with a view toward including them on POTATOLAND. Beggar's Banquet's gamble paid off as Spirit reached # 40 in the British charts-their only entry ever on that list. Rhino picked up the album for U.S. release. Various bass players and keyboardists appear on the album, including John Locke. It has been released on CD by a number of companies, most interestingly by Chord who released an extended version, including some of the "lost" POTATOLAND tracks. Unfortunately I believe this version is now out-of-print. The Line Record's version of the CD is still available, but does not include the bonus songs. You can order this-the only currently available version of POTATOLAND-directly from the co-composer: