Spirit-a critical discography pt. 3
THE THIRTEENTH DREAM/SPIRIT OF '84 (1984)
Tracks: Black Satin Nights, Mr Skin, Mechanical World, Pick It Up, All Over The World, 1984, Uncle Jack, Nature's Way, Fresh Garbage, I Got A Line On You.
Produced by David Devore.
This album was recorded in 1984 and features the original lineup. In Europe it was released as "The thirteenth dream" (left) and in the US as "Spirit of 84" (right). There are three new songs: Black satin nights, All over the world and Pick it up. Pick it up is great, forget the other two ! Most of the re-recorded stuff is great, especially Fresh garbage and Mr. Skin. The album-closing jam on I got a line on you is horrible though, as is the album cover on the European version!
1984/I GOT A LINE ON YOU/ELIJAH (1984)
Produced by David Devore.
This is a maxi-single with a great bonus-track that doesn't appear on the Thirteenth dream album -a great live-in-the-studio version of -Elijah.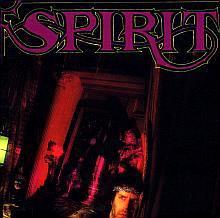 RAPTURE IN THE CHAMBERS (1989)
Tracks: Hard Love, Love Tonight, Thinking Of, Rapture In The Chambers, Mojo Man, Contact, The Prisoner, One Track Mind, Enchanted Forest, Human Sexuality, Shera Princess Of Power, End Suite.
Produced by:Randy California.
This album was a bit of a comeback for Spirit I guess, at least as recording artists, because this was (IMO) the first "proper" Spirit album since Farther along. And it's a good one too! The line-up for this album was Randy, Ed and John Locke. Among the guests were Mark Andes, who played bass on two tracks and wrote the music for Hard love. The production is great, sometimes it sounds like an 80's version of Sardonicus. I've noticed that some of my friends (who sometimes might be a little sceptical towards Spirit's music) likes this album. It was the first Spirit album I bought, and it is a good introduction to Spirits music. My favorite tracks are: Thinking Of, The Prisoner, One Track Mind and the title track.
Tent Of Miracles (1990, re-released 2020 on double CD)
Tracks: Borderline, Zandu, Love From Here, Ship Of Fools, Burning Love, Tent Of Miracles, Logical Answers, Old Black Magic, Neglected Emotion, Imaginary Mask, Stuttgart Says Goodbye, Deep In This Land. Additional tracks on 2020 release: Covered Wagons (outtake), California Band (outtake), Zandu (rehearsal), Kokomo, All I Need is Time (demo), I Can't Dance No More (live), Dark Eyed Woman (live), Woke Up this Morning (live), Borderline (live).
Tracks on Disk two, 2020 rerelese, all tracks live: Love from Here, Fresh Garbage, Love Tonight, Tent of Miracles, Like a Rolling Stone, Nature's Way, Burning Love, Mr. Skin, Rapture in the Chambers, All The Same, I Got a Line on You, Deep in this Land, Animal Zoo, Zandu, Ship of Fools, Downer.
Produced by: Randy California.
2020 rerelease compiled, edited and mastered by Mick Skidmore.
This, the follow up to Rapture in the chambers, was obviously a low budget project (at least it seems so when looking at the album cover!:-), but fortunately this didn't affect the quality of the music. The line up here is Randy, Ed and Mike Nile (bass) who also wrote and sang some of the songs on the album. There's some really adventurous tracks here, like Imaginary mask and Stuttgart says goodbye-I like that! My favorite tracks are Zandu, Neglected Emotion, Imaginary Mask and the title track. Essential!
Tent of Miracles - expanded edition 2020
As noted above the Tent of Miracles was obviously a low-budget project so it's really nice to see it released again as a double CD with an excellent cover. Disc one is the original album, two thirds of the tracks are alternate mixes or unedited. There's also nine bonus tracks, some studio and some live. Disc two contains a live gig from March 1990 in Amsterdam. It also contains a booklet with pictures liner notes by Mick Skidmore.
When I read that so many tracks (two thirds) are alternate versions I was worried, maybe these versions are not as good as the original ones? But I like them, I think they all improve slightly on the original versions. Like for example the new intro to Logical Answers.
Among the unreleased tracks, Covered Wagons is a really interesting outtake. I also like version of Fred McDowells Kokomo, other versions of this song by Spirit exits, but this is my favorite! The first part of the demo All I Need Is Time is what became the song Neglected Emotion, but then it goes on...what a find!
The live disc documents how this band sounded in 1990, before the Tent of Miracles was released.
All in all this is a great release, and if you don't have this album this is clearly the version to get!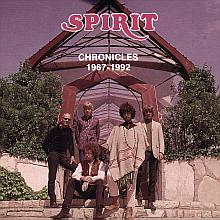 CHRONICLES 1967-1992 (1991)
Tracks: If I Had A Woman, Darlin', Hey Joe, I Can't Stand It, Genetic Dreams, Fresh Garbage, Somebody Loves You, Lake Of Love, King Of Days, I Want Somebody, Reelin' In The Night, Cass Drums, Holy Man, Salvation, Would You Believe, Time To Fly, Nature's Way, Stuck In L.A., Darlin' If, Kokomo, Circle-Prelude, Elijah.
Produced by: Spirit (tracks 5-21, Barry Hansen (tracks 1-4"+2"2).
A mixture of demos, outtakes, live-recordings and new versions of old songs. Some of these tracks have mostly historical value, others are pretty good and some are excellent. The Fresh garbage live-jam is a big favorite of mine, as is Reelin' in the night and the new version of Nature's way with Sara Fleetwood on vocals. All in all, not the first album to check out if you're curious about Spirit, but interesting for the long-time fans.
Nature's way (CD-maxi single)
Tracks: Nature's way, Darlin' if, Genetic Dreams, Fallen Hero, Spirit interview with Harvey Wharfield (approx. 23 minutes).
This is an interview CD with tracks from Chronicles and the previously unreleased ballad Fallen Hero.