Spirit-a critical discography pt. 5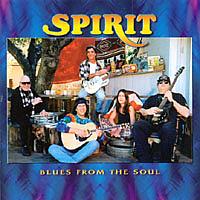 Blues from the soul (2003)
Tracks: CD1: Gonna Need Somebody On Your Bond, Wagon Of Wood, Tell Me (Didn't Mean No Harm To You), Key To The Highway When You're Smilin', Pawnshop Blues, Ever Since You Left Me, Kansas City Fixing To Die (Shake My Ego Down), Pick A Bale Of Cotton, Run Sinner Run, Cosmic Smile (The Other Song), Charlie James/Miss This Train, Jimi's Back, Red House, Kokomo, Devine Love, When The Saints Go Marchin' In, Like A Dog Lord I'll Be With You Always, I Had A Dream
CD 2: The Letter, Ain't Superstitious, Ever Since You Left Me (Maui Wowie) Poor Boy, Cold Rainy Night, California Blues, Sugar Mama, Charlie James, Shattered Dreams, Kokocass Jam, Dreamy Eyes, Miss This Train, Down And Dirty Blues, Last Night I Had The Strangest Dream.
Original album produced by: Randy California,
This collection produced and mastered for CD by Mick Skidmore.
A two CD set of Spirit playing the blues, mostly recorded in the nineties. As the extensive liner notes explain, the Spirit blues album project went on for a long time, and the first version of it was called Blues From The Soul, but that album was shelved in favor of the less blues oriented California Blues.
It's a mixture of covers and original material, mostly studio material but also some live cuts.
The feel is mostly pretty laid back with a lot of acoustic material. The core band for most of the cuts are Randy, Cass and Steve "Liberty" Loria, but many cuts also feature appearances from Scott Monahan, Matt & Rachel Andes, Janet Wolfe and others.
There are many highlights on the CD; the opening cut Gonna Need Somebody On Your Bond featuring Randy's sister Janet on harmony vocals, When You're Smilin', Fixing To Die, Pick A Bale Of Cotton, Miss This Train, Jimi's Back, Devine Love, I Had A Dream, Down And Dirty Blues and others.
Down And Dirty Blues is one of my absolute favorite cuts on the CD, a 24 minute long blues impovisation featuring Randy, Cass and Scott Monahan.
I Had A Dream is a longer version of the song from the out of print Cosmic Smile CD. This song co-written by Randy with George Valuck has an important message and would be a highlight on any Spirit album.
Plenty of good stuff here for fans of Spirit and the blues!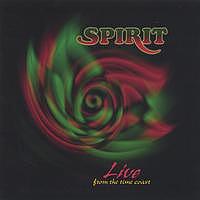 Live from the coast (2004)
Tracks:Soldier, Mike And Bob's Party, Rapture In The Chambers, Love Tonight, Tent Of Miracles, All Along The Watchtower, Ship Of Fools, Golden Jam Dark Eyed Woman, I Got A Line On You, Jam Free, Downer
CD 2:In A Young Man's Eyes, Future In My Hands, Victim Of Society, Holy Man, Love From Here, Fresh Garbage, Taurus, Darlin' If, Burning Love, Logical Answers, Blues For A Nation Old Black Magic, Animal Zoo, Deep In This Land, Zandu, Turn To The Right, Working In New York.
Produced and mastered by Mick Skidmore
REVIEW COMING SOON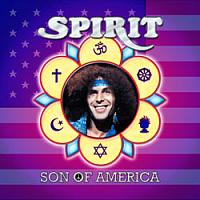 Son Of America (2005)
Tracks: CD 1: Space Jam, The Prophecy, Interlude #1, Thomas Q and Jennifer, Sai Jam #1, 20 Years, Gyrations Of War, Son Of America, In The Dark, Storm In The Night, Gopal, Sai Jam #2, Shock Values, The Times They Are A Changing, Interlude #2, Who Are You?, Breaking My Heart, Barking Up The Wrong Tree, Back Home, French Apartment, City Of Angels, 2007, Sai Jam #3, Let It Be, Medley: Maybe You'll Find, When, Farther Along.
CD 2: Intro, One By One, Love From The Heart, Denise, Loverman, No Time To Pretend, Fire, Close To You, The River, Evil Is, Devil Does, Mean And Beautiful, Compromise, Mean Little Sister, 12,000 Miles, Break My Back, Land Of Bismo, Line By Line (Water In the Eyes), Take Me Down (To The River Of Love), Living On Love.
Produced and mastered by Mick Skidmore.
Son Of America is another double CD with Spirit studio material from the vaults. It is a mix of unreleased songs, alternate mixes and alternate versions of previously released songs. No live material this time.
The first CD is a gem! It is devoted mostly to previously unrelased material. I think it's perhaps the strongest collection of songs from Spirit since Sardonicus, maybe with the expection of Tent Of Miracles. Lots of great melodies and also some experimental/psychedelic stuff, like Shock Values that reminds me of Stuttgart Says Goodbye from the Tent Of Miracles album. But it is dominated by the more lyrical and melodic side of Randy's songwriting. Great examples of this is Thomas Q and Jennifer (with John Locke and Bruce Gary), 20 Years, Gopal and Back Home. There is also a great little rocker called Breaking My Heart (Soul On Fire). This track has Mark Andes from the original band on bass.
Then there are some interesting covers; a fine version of The Beatles Let It Be (check out the liner notes about that one...) and a truly "Spiritual" version of Bob Dylan's The Times They Are A Changing. There is also a great nineties recording of an old unrelased song from the seventies called Storm In The Night, one of the first tracks that really grabbed my attention on this CD.
The second CD is dominated by material that was previously released on the Cosmic Smile CD. Some of the songs appear in alternate versions. The version of One By One is longer and different than the one on CS. I think the CS version is superior. On the other hand the new version of Living On Love with vocals is in my opinion much better than the instrumental version included on CS. The version of Compromise included here is also to my ears an improvement on the previously released version. One of the true gems on this CD is the now complete version of Line By Line (Water In The Eyes) that first came out on the Sea Dream CD. Superb songwriting by Scott Monahan.
Finally there are two unrelased compositions; Denise and Loverman which I think both show previously unknown sides of Randy California the composer...
Definitely a CD worth having for all Spirit fans, and if you don't have any of the other releases from the last few years with material from the vaults, this is a good place to start.
Videos
THE VIDEO HISTORY VOL. 1 (1992)
THE VIDEO HISTORY VOL. 2 (1996)
This video includes all the material from vol. 1, and adds approximately 1 hours worth of new material.
THE ED CASSIDY STORY (1993)
DVD
Live in Concert (2000)
Check out my review.